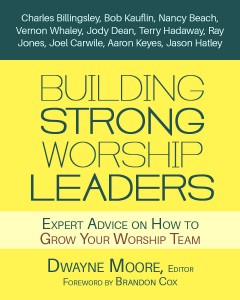 Dwayne Moore from Next Level Worship has put together a great 70+ page ebook chock full of great resources! We hope you find it as insightful as we do! This book brings together a great panel of leaders who share from their years of experience in leadership. Charles Billingsley, Bob Kauflin, Nancy Beach, Aaron Keyes, Dwayne Moore and a handful of others each bring individual chapters with applicable and practical tools for growing your ministry teams.
The overarching theme that runs through this book is discipling and mentoring LEADERS, not just teaching them to be better musicians.
This is a great resource! Download below.
What others are saying:
"Part process, part philosophy, this book abounds with practical approaches and astute insights. In one chapter, you'll find an impeccably reasoned definition of worship; in another, a refreshingly unguarded telling of a lesson hard-earned. One chapter lays out a detailed plan for transforming our worship teams; another offers a rationale for cultivating our own hearts even as we pour into others."

Jeanelle Reider
Author, The One Voice That Matters: What Worship Leaders Need to Hear From Their Shepherd
TheOneVoiceThatMatters.com

"Dwayne Moore has put together a great free resource for worship leaders, teams, and churches that we HIGHLY recommend! With informative and helpful chapters from seasoned leaders like Aaron Keyes, Bob Kauflin, Nancy Beach, Charles Billingsley, and more, this is a book full of insightful mini-books written specifically for worship leaders and ministry teams. Filled with a variety of encouraging and challenging perspectives, Building Strong Worship Leaders is a must-have in every young worship leader's tool box and should be in the hands of every experienced mentor who is looking to disciple and coach others."

Russ Hutto,
Editor & Contributor, TheWorshipCommunity.com
Download:
Building Strong Worship Leaders (free ebook)
Website and Resources Contact Info:
Dwayne Moore is also the author of these great books: