Hey Ya'll –
This is yet another "test" for us in the podcasting realm. Other than these written notes, the only media being sent is an awesome video clip of worship leader/songwriter John Mandeville performing his song, "Free". So, this would be our first "test" on "video podcasting" (aka vidcasting, video casting). And speaking of free – for the first person who watches the video and leaves a comment on this podcast blog, you will get a FREE copy of the new worship CD by John Mandeville entitled "We Belong To Heaven".
You can learn more about John Mandeville and purchase his new worship CD and resources at www.lifestyleofworship.com
You don't have to get a new video IPod – you should be able to watch the video in ITunes. Or, stream it right here. Just click the screenshot below to play the video: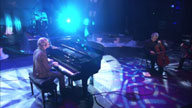 For the Kingdom,
Fred
PS: wow – the response to last weeks' "World Wide Worship, Volume 1" post was amazing. I will definitely be leading more worship "live" via the podcast – stay tuned!